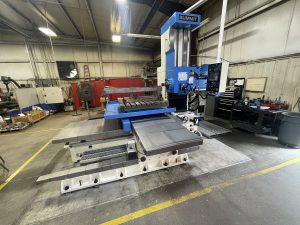 Leverage your CNC Machine and set-up experience towards a career where you will earn excellent pay in a low stress dayshift role, with weekends off!
Come join a tight-knit team in a bright, clean facility, with state-of-the-art equipment, where you will have the opportunity to increase your skills and pay, while making parts that help feed and hydrate America!
Due to growth, OKL Engineering, a leading innovative manufacturer in the metal packaging industry, is searching for CNC Machinist to join their team in the Cincinnati, Ohio area.
If you are a CNC Machinist with set-up and G&M code experience, then OKL Engineering wants to hear from you! Experience with Haas Machines is a plus!
Do not miss this opportunity! Apply Now or email:
As a member of the OKL Engineering team, you will enjoy:
· Excellent Compensation: Competitive pay. Potential for more based on experience.
· Full Benefits Package: Medical, Dental, Vision, 401k, and profit-sharing program.
· Paid Time Off: You will enjoy paid holidays and PTO if hired from January 1 – June 30 you will have 3 day starting July 1, if hired from July 1 – December 31 on January 1 you will have 1 week after completion of your first year you will receive 2 weeks PTO, After completion of 5 years you will receive 3 weeks.
· Dayshift Schedule: Monday – Friday 7am – 3:30 pm enjoy weekends and evenings off! Plus, opportunities for overtime during the busy season.
· Nightshift Schedule: Monday – Thursday 3:00pm – 1:30am
· Growth and Advancement Opportunities: OKL Engineering is in a growth phase, you can advance your skills and compensation into opportunities in programming, engineering, and leadership departments.
· State of the art equipment: You will join our team of seasoned machinists in our 20,000 sq/ft machine shop utilizing new state-of-the-art equipment!
· Culture: You will become part of our all-inclusive team in a laid-back environment. Where you will be valued and enjoy Employee appreciation lunches, holiday parties and more!
In this role as the CNC Machinist, you will produce machined parts by programming, setting up, and operating a computer numerical control (CNC) machine; while maintaining quality and safety standards; keeping records; maintaining equipment and supplies.
Essential Duties:
· Plans machining by studying work orders, blueprints, engineering plans, materials,
· specifications, orthographic drawings, reference of surfaces, and machining parameters; interpreting geometric dimensions and tolerances (GD&T).
· Plans stock inventory by checking stock to determine amount available; anticipating needed stock; placing and expediting orders for stock; verifying receipt of stock.
· Programs machine by entering instructions, including zero and reference points; setting tool registers, offsets, compensation, and conditional switches; calculating requirements, including basic math, geometry, and trigonometry; proving part programs.
· Sets up machine as appropriate to machine specifications; Runs 1st part; Proves-out; Runs production.
· Loads stock into position.
· Verifies settings by measuring positions, first-run part, and sample work pieces.
· Maintains specifications by observing operations pertaining to the specific machine; taking measurements; detecting malfunctions; troubleshooting processes; adjusting and reprogramming controls; sharpening and replacing worn tools; adhering to quality assurance procedures and processes.
· Maintains safe operations by adhering to safety procedures and regulations.
· Maintains equipment by completing preventive maintenance requirements; following manufacturer's instructions; troubleshooting malfunctions; calling for repairs.
· Maintains continuity among work shifts by documenting and communicating actions, irregularities, and continuing needs.
· Documents actions by completing production and quality logs.
· Updates job knowledge by participating in educational opportunities; reading technical publications.
· Accomplishes organization goals by accepting ownership for accomplishing new and different requests; exploring opportunities to add value to job accomplishments.
About the Company:
OKL Engineering is headquartered in Cincinnati, Ohio, USA, and was founded in 1984 as an innovative manufacturing facility that specialized in design improvements on existing equipment used in the metal packaging industry.
An Equal Opportunity Employer, all qualified applicants will receive consideration for employment without regard to race, color, religion, sex, sexual orientation, gender identity, national origin, or protected veteran status and will not be discriminated against based on disability.